Tomato Paste/Ketchup/Juice, other Jam/Sauce Reconstitution Plant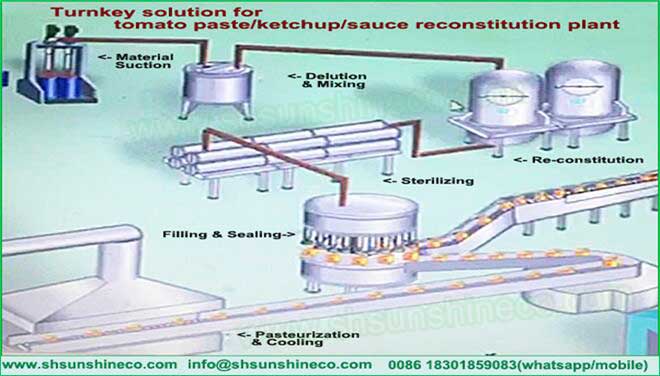 Process Flow (typical):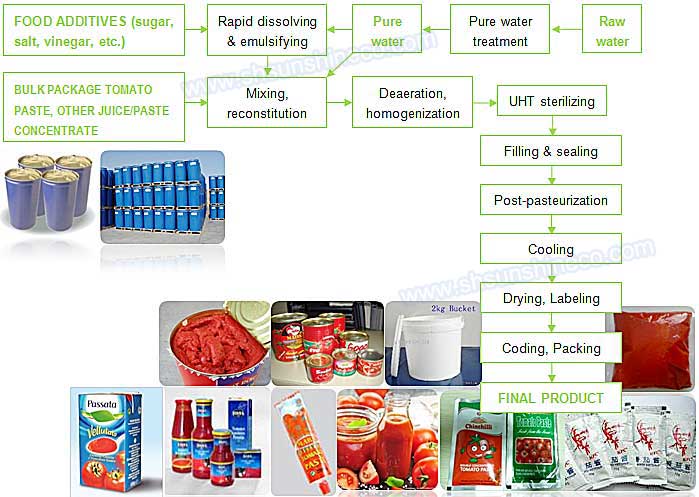 Basic Description:
Item

Specification

Major material

bulk package tomato paste, other juice/paste concentrate (can run all around year,

no limited with fruit season)

Minor ingredient

water, other food ingredients such as sugar, salt, vinegar, flavors, spices, thicker, stabilizer, etc. (depending on the formula)

Final product

tomato paste/ketchup, tomato juice drink, other jam/sauce such as chilli sauce, hotpot seasoning sauce, etc.

Final product package

1- two or three piece tin can

2- glass bottle/jar

3- pouch/sachet (flat or stand-up)

4- PET plastic bottle/bulk plastic barrel

5- Tetra pak or gable top carton

Process capacity

200kg~10,000kg/hour

Budget

50,000~2,000,000USD

Main characters

1- Hot-filling style (filling temp is up to 85~90degree)

2- To retain the product's good color and flavor at the maximum by merging the advanced processing technologies from Germany, Italy, France and Taiwan.

3- High auto running with PLC control system. All the key components are from SIEMENS, SCHNEIDER and other international famous brand.
Photos (for reference):