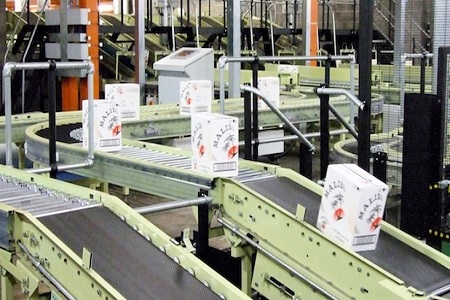 Food and beverage manufacturers realize the impact packaging can have on the success of their products, and in order to establish and hold onto a competitive advantage in the market, they require effective and efficient packaging machinery.
Packing is an essential part of most food products. Effective packaging not only protects and preserves the food within; it also serves as a tool for gaining consumer interest. In a competitive environment where time-to-market is a critical element in staying competitive, there is a growing need for new packaging machinery that is capable of meeting the evolving demands of the industry.
When it comes to efficiently packaging food products, manufacturers are interested in factors such as enhanced automation, integrated systems, versatility, and shorter turnaround times. Packaging machinery manufacturers are using these key needs as a guide to design packaging equipment that manufacturers need. Thanks to this growing demand, the global market for packaging machinery is predicted to reach $64.7 billion by 2020.
In recent years, the demand for packaged food and beverages has been growing thanks to urbanization in various regions and a rising disposable incomes. In order to accommodate the busy lifestyles of consumers and adequately meet their packaging needs, food and beverage manufacturers are showing a strong interest in multi-functional systems. Additionally, factors such as sustainability and environmental awareness are encouraging some food companies to seek more energy-efficient packaging solutions.
The packaging machinery market is currently dominated by form/fill/seal machinery. This type of machinery is widely used throughout the food industry and offers efficiency, high-capacity, and rapid speeds for products that require form, fill, and seal packaging. Modular packaging systems are also growing in popularity, as many food manufacturers have realized the value of extra flexibility in the packaging process.
Integrated machinery technology and digital information have become important part of modern food and beverage production, and packaging machinery companies are continuously working toward the development of equipment that is suitable for the modern production needs. In particular, Ethernet connectivity has become a preferred choice for new machine designs thanks to the realization that machine-to-machine (M2M) connectivity promotes efficiency for many tasks.
Some packaging machinery manufacturers are also working toward creating and improving robotics-enabled machinery. Vision sensor technology and end-of-arm-tooling (EOAT) are key design advancements that are in high demand from customers seeking to improve their packaging operation.
The largest and fastest-growing market for packaging machinery is the Asia-Pacific region. Strong growth in the region can be largely attributed to a growing middle class population, improvements in food processing, and increasing foreign investment in regional production.