Effective food safety involves many elements, and equipment design can play an instrumental role in preventing cross-contamination and the spread of allergens.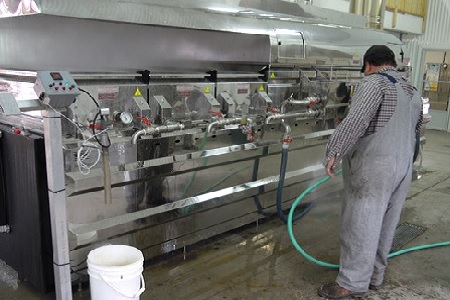 In order to design effective food packaging that promotes all aspects of food safety, packaging equipment manufacturers need to fully understand and address the risks of allergens and contamination. Guarding against these risks presents numerous unique challenges and companies should carefully examine their equipment design in order to promote safety and protect consumers.
Food safety training is an essential part of preventing cross-contamination and the spread of allergens to food packaging. Food professionals are generally required to undergo some sort of hazard analysis and critical control points (HACCP) training in order to enhance their awareness of various food safety risks. Many of the same food-safety concepts that guide food producers and food packaging manufacturers can also be used by those who work in the design, production, and sale of food-handling and packaging equipment.
When equipment manufacturers have a good understanding of the applications in which their products may be used, they are in a better position to identify the ways that equipment may be compromised to facilitate contamination. In order to promote food safety and mitigate against risks of contamination, equipment designers and manufacturers should consider the following:
Use In Multi-Product Applications
If the user intends to use the equipment in multi-product applications, the equipment manufacturer should determine if the equipment is suitable for use with all of the various food items and categories for which it may be used. Any limitations should be easily identifiable by the user.
Equipment Use
Equipment manufacturers should understand whether the equipment and its supported process are likely to induce cross-contamination or guard against it. For some processes, cross-contamination is not a risk that needs to be considered, but for those where allergens or other contaminants may unintentionally end up in a product, equipment design is an important part of prevention.
Design Against Contamination
Equipment engineers should consider the benefits of using certain materials over others. Non-porous materials that are designed to inhibit corrosion and degradation will better serve many food processing applications. Cracks and pores can foster the spread of contaminants, and equipment manufacturers should select materials that guard against these risks. For the same reason, equipment should also be designed without recesses or crevices.
Effective Cleaning
Equipment should be designed to be easily and effectively sanitized so that all traces of contaminants can be eliminated. Materials used in the equipment's construction need to be able to withstand water pressure and cleaning chemicals to ensure that the equipment can be adequately cleaned.